Durable MAN™
Potent Herbal Blend for Male Libido
Formulated with three clinically validated herbs traditionally used not only for enhancing male libido, sexual function and vitality but also for boosting energy and dopamine levels while lowering stress.*
Savings based on 1 bottle price
SHIPS NEXT BUSINESS DAY
What It Does

+

A healthy sex life can play an important role in overall health. Durable MAN is a safe, effective way to support your libido and sexual performance naturally—with no side effects. It features clinically proven doses of three safe and effective medicinal herbs: Tribulus, ashwagandha and mucuna.*

• Improves male libido and sexual performance*
• Supports healthy erectile function*
• Increases dopamine levels for enhanced mood and focus*
• Lowers stress and boosts energy and vitality*

General Product Info:
• 60 coated tablets (a 60-day supply)
• Made in the USA in an FDA inspected facility
• Packaged in sustainable, 100% non-toxic amber glass bottles
• One-year, any reason return policy with free return shipping
Why It Works

+

Durable MAN provides a clinically validated approach to supporting male libido and performance with a synergistic blend of three herbs used by Dr. Passero in his clinics to help his patients who are looking for a drug-free way to improve their sexual health and performance.*

Tribulus has long been considered an aphrodisiac, and research has shown it improves desire, erectile function and sexual satisfaction, possibly via its effect on blood flow. In a three-month study, researchers gave 180 men between the ages of 18 and 65 either a tribulus supplement or a placebo. At the end of the study, the tribulus group showed significant improvements in desire, erections and sexual satisfaction.*

Ashwagandha has long been used in Ayurvedic medicine to promote vitality and to help the body adapt to stress. Studies have shown that ashwagandha lowers levels of the stress hormone cortisol, which can interfere with libido and sexual performance.*

Mucuna, also known as cowage or velvet bean, helps increase levels of the feel-good neurotransmitter dopamine, which is essential for mood balance, focus, appetite and sex drive. Mucuna has traditionally been used to relieve stress and boost libido and fertility in men, and research is confirming its effectiveness.*

Why We Use Amber Glass Bottles vs. Clear Glass or Plastic:
• Sustainability: Glass is infinitely recyclable and reusable.
• UV Protection: Amber glass protects the ingredients from light damage.
• 100% Non-Toxic: No risk of chemicals found in plastics leaching into the pills.
Directions & Label Information

+

Directions

For adults only. Take one tablet daily or as directed by your healthcare practitioner. For additional support, Dr. Passero recommends two tablets daily.

Contents

Each bottle contains 60 naturally coated tablets (typically a 60 day supply).

Cautions

For men only. If taking levodopa containing medications, consult your healthcare practitioner before use. To be taken under supervision of a healthcare provider. Keep out of the reach of children.

Storage

Keep tightly closed in a cool, dry place.

This product is non-GMO, gluten free and vegetarian.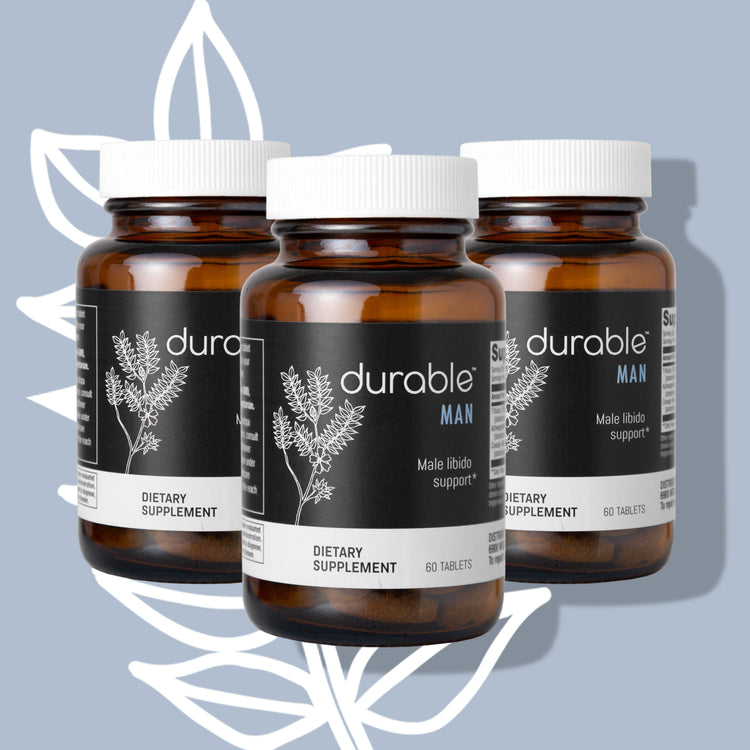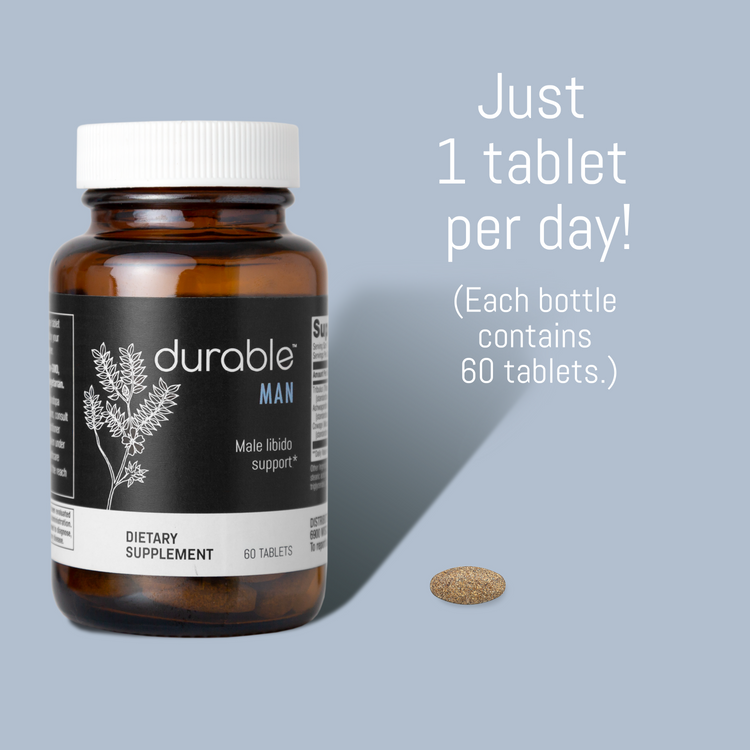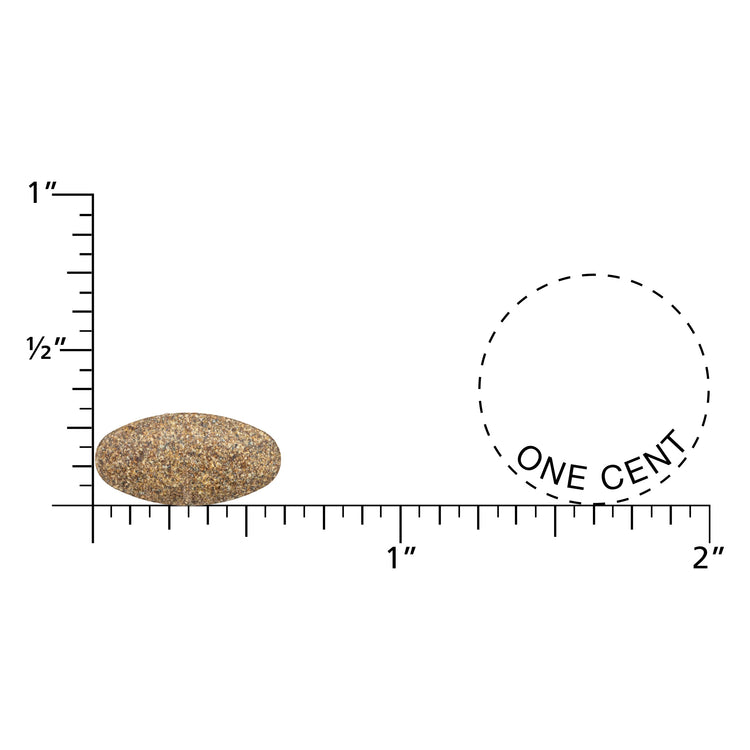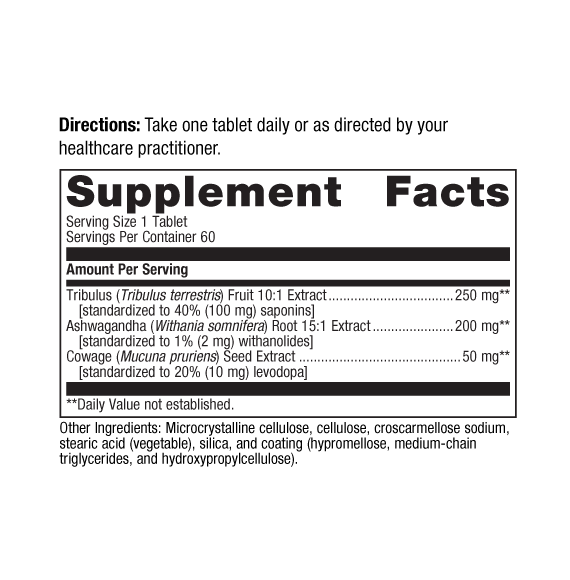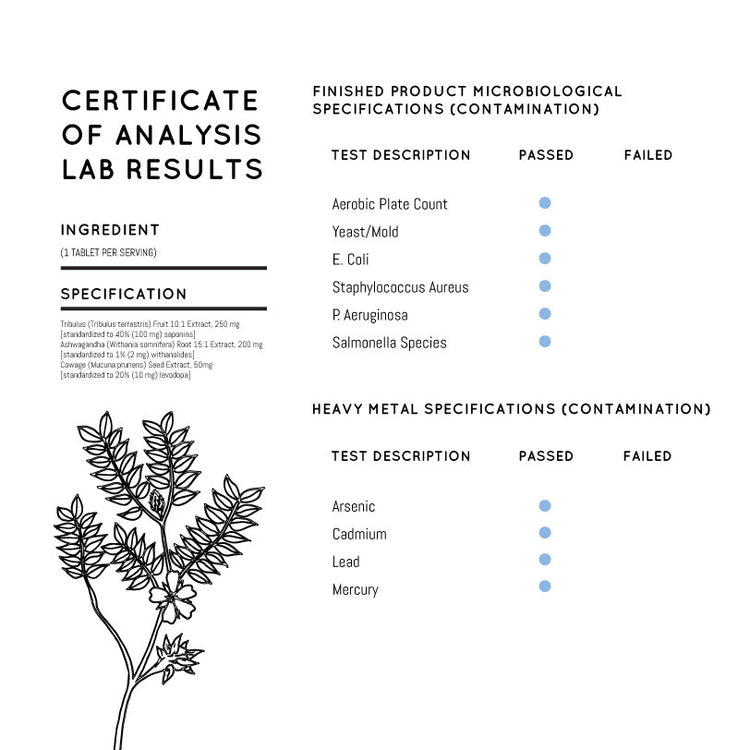 Supercharge Your Sexual Health With Potent Herbal Support 
Standardized Tribulus Extract

Long used in Ayurvedic medicine to increase libido and improve fertility in men, tribulus has been shown in human clinical trials to improve sex drive and erectile function.*

Standardized Ashwagandha Extract

Ashwagandha is a popular adaptogen—an herb that helps the body adapt to stress—that works synergistically with the other herbs in Durable MAN to enhance sexual desire and performance.*

Standardized Mucuna Extract

Also known as cowage or velvet bean, mucuna helps stimulate the important neurotransmitter dopamine. It has long been used to enhance male libido and sexual health.*
Frequently Asked Questions
Dr. Kevin Passero Answers
Functional medicine expert, licensed naturopathic physician
and Durable co-founder Dr. Kevin Passero answers your top questions.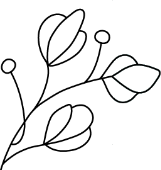 Will Durable MAN affect my testosterone levels?

+

No. The herbal ingredients in Durable MAN work primarily via mechanisms of action that do not involve testosterone. Tribulus can improve libido and performance via its effect on nitric oxide production. Ashwagandha relieves stress, which can interfere with healthy sexual function, and mucuna works primarily by boosting dopamine levels which can influence sex drive.*
How does tribulus improve libido and performance?

+

Preliminary research indicates that tribulus may increase the body's synthesis of nitric oxide, which is critical for both healthy blood flow and sexual function.*

In a three-month study, researchers gave 180 men between the ages of 18 and 65 either a tribulus supplement or a placebo. At the end of the study, the tribulus group showed significant improvements in desire, erections and sexual satisfaction.*

In addition, several studies have shown that tribulus improves sperm motility and quality.*

How long will it take to feel the effects?

+

Like most nutritional supplements, Durable MAN will take time and consistent use to build up in your system in order to achieve maximum effectiveness. However, you might begin to see a difference in your sexual desire and performance beginning in as little as four weeks with consistent use.*
Are there any side effects?

+

There are no significant known side effects associated with taking any of the ingredients in this formula. However, if you are taking levodopa-containing medications please consult your healthcare practitioner before use.*