Durable PROSTATE™
Relief From Frequent Nighttime Urination
Combines a clinical 320 mg dose of ultra-pure saw palmetto with stinging nettle, lycopene, vitamin B6 and other proven nutrients to provide powerful support for a healthy prostate and ideal urinary function.*
Savings based on 1 bottle price
SHIPS NEXT BUSINESS DAY
What It Does

+

Durable PROSTATE provides a clinically proven 320 mg dose of ultra-pure saw palmetto extract along with stinging nettle and other synergistic ingredients to support optimal prostate health, which provides numerous health benefits and is key to maintaining normal urinary function for men as they get older.*

• Promotes normal prostate size and function*
• Helps reduce frequent urination—at night and during the day*
• Encourages normal urine flow and complete bladder emptying*
• Provides targeted antioxidant protection for your prostate*

General Product Info:
• 60 vegetarian capsules (a 30-60 day supply)
• Made in the USA in an FDA inspected facility
• Packaged in sustainable, 100% non-toxic amber glass bottles
• One-year, any reason return policy with free return shipping
Why It Works

+

Maintaining healthy prostate function is a top concern for many men as they age, and it's important to take a proactive approach. Durable PROSTATE is a state-of-the-art solution with a scientifically formulated blend of ingredients proven to help support normal prostate size and function and used by Dr. Passero with great success in his clinics. This powerful formula is designed to improve urinary flow and frequency while promoting lasting prostate health.*

Saw Palmetto: The Prostate Herb With an 88% Success Rate
The star ingredient in Durable PROSTATE is a standardized saw palmetto extract. Derived from the red berries of saw palmetto palm trees native to Florida, this extract contains a plant sterol called beta-sitosterol, which along with saw palmetto's other sterols and fatty acids, helps to inhibit the 5-alpha reductase enzyme. This enzyme converts testosterone to dihydrotestosterone (DHT), which increases prostate size, putting pressure on the urethra.*

The 320 mg dose of standardized saw palmetto extract featured in Durable PROSTATE has been shown to have a stunning 88% rate of effectiveness in helping to ease the uncomfortable, annoying and sometimes embarrassing prostate-related urinary symptoms men often struggle with as they get older.*

Extensive Clinical Research has Shown That 320 mg of Saw Palmetto:
• Cuts down on nighttime trips to the bathroom*
• Improves urine flow and bladder emptying*
• Reduces straining and "stop-and-go" urination*
• Promotes healthy prostate size and function*

A Synergistic Blend of Prostate Health Enhancers
We combined the saw palmetto in this formula with stinging nettle extract, which has been shown to work synergistically with saw palmetto to enhance its prostate and urinary health benefits.*

We also added lycopene, a carotenoid antioxidant that's been shown to provide targeted protection for prostate cells, along with a blend of amino acids shown to help reduce prostate swelling and water retention. Rounding out the Durable PROSTATE formula is a blend of prostate-supporting nutrients, including vitamins D3 and B6 and the essential mineral zinc, to help nourish and protect your prostate.*

Why We Use Amber Glass Bottles vs. Clear Glass or Plastic:
• Sustainability: Glass is infinitely recyclable and reusable.
• UV Protection: Amber glass protects the ingredients from light damage.
• 100% Non-Toxic: No risk of chemicals found in plastics leaching into the pills.
Directions & Label Information

+

Directions

For adults only. Use one capsule daily or as directed by your healthcare practitioner. For additional support, Dr. Passero recommends up to two capsules daily.

Contents

Each bottle contains 60 vegetarian capsules (typically a 60 day supply).

Cautions

For men only. If taking medication consult your healthcare practitioner before use. Keep out of the reach of children.

Storage

Keep tightly closed in a cool, dry place.

This product is non-GMO and gluten-free.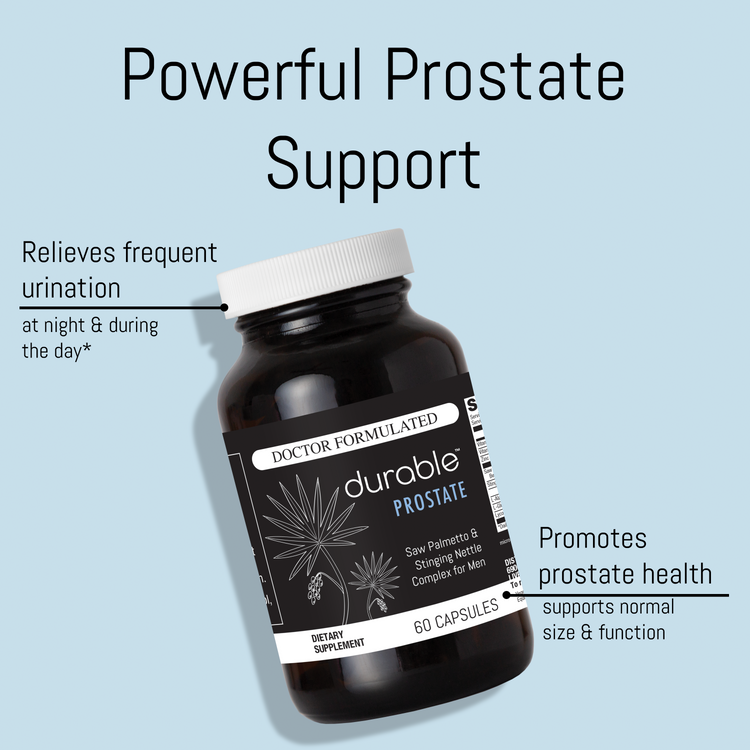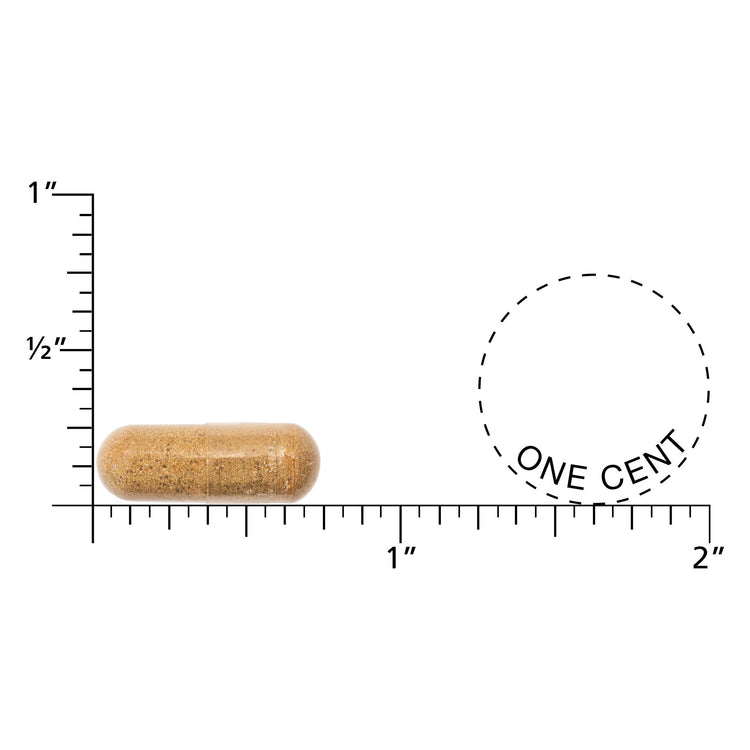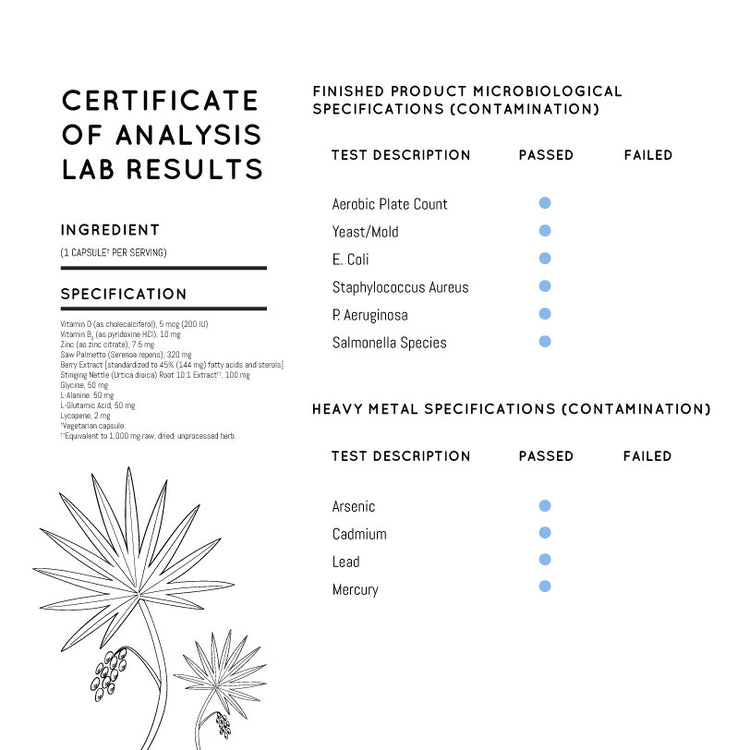 Take Control of Your Prostate Health With Powerful, Proven Ingredients
Standardized Saw Palmetto Extract

Saw palmetto is rich in the bioactive compound beta-sitosterol, which has been shown in clinical studies to provide powerful relief from prostate problems.*

Stinging Nettle Extract

Stinging nettle has been shown in clinical trials to help men maintain optimal prostate and urinary health, particularly when combined with saw palmetto extract.*

Key Nutrients & Amino Acids

Lycopene, vitamins D3 and B6, and zinc nourish and protect your prostate. The amino acids glycine, l-alanine and l-glutamic acid help decrease swelling and water retention.*
Frequently Asked Questions
Dr. Kevin Passero Answers
Functional medicine expert, licensed naturopathic physician
and Durable co-founder Dr. Kevin Passero answers your top questions.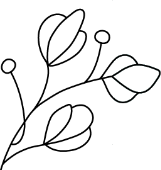 How is Durable PROSTATE different from other prostate supplements?

+

Durable PROSTATE is scientifically formulated using a clinically proven 320 mg dose of a saw palmetto extract that has been standardized to provide a consistent level of important fatty acids and sterols, including beta-sitosterol. It includes stinging nettle extract for synergistic urinary health benefits, as well as lycopene for targeted antioxidant support, and a blend of prostate-supporting amino acids and nutrients.*
How long will it take to feel the effects?

+

Like most nutritional supplements, Durable PROSTATE will take time and consistent use to build up in your system in order to achieve maximum effectiveness. However, you might begin to see a difference in urinary flow beginning in as little as four weeks. For extra prostate support, it is safe to take two capsules daily.*
Are there any side effects?

+

There are no significant known side effects associated with taking any of the ingredients in this formula.*