Durable D3K™
High-Potency, Bioactive Vitamin D3 & K2
Features a potent 125 mcg (5,000 IU) dose of natural, bioactive vitamin D3 along with a synergistic blend of vitamins K1 and K2 (in the natural MK-7 form) to provide powerful support for your bones, brain, heart and immune system.*
Savings based on 1 bottle price
SHIPS NEXT BUSINESS DAY
What It Does

+

Durable D3K is an advanced vitamin D formula that features vitamin D3 (125 mcg / 5,000 IU), the natural and most bioactive form of vitamin D, combined with vitamin K1 and easy-to-absorb vitamin K2 in the natural menaquinone-7 form (MK-7). The nutrients are delivered in an oil-based softgel which provides superior absorption. The result is advanced bone, vascular, cognitive and immune health benefits.*

• Supports strong bones*
• Helps inhibit calcium buildup in the arteries*
• Promotes optimal cardiovascular and cognitive health*
• Helps maintain healthy immune function*
• Just one small softgel per day provides comprehensive health benefits*

General Product Info:
• 60 softgels (a 60-day supply)
• Made in the USA in an FDA inspected facility
• Packaged in sustainable, 100% non-toxic amber glass bottles
• One-year, any reason return policy with free return shipping
Why It Works

+

According to Dr. Passero, the importance of vitamin D in terms of overall wellness and vitality cannot be overstated. With its ability to regulate over 1,000 genes in the human body, vitamin D influences just about every aspect of your health. It plays an integral role in building strong bones, maintaining cardiovascular and cognitive health, and regulating your immune system.*

Despite vitamin D's importance, a large percentage of adults (up to 50% by some estimates) are deficient, which is why supplementing with a high-potency vitamin D supplement is so important. Durable D3K features 125 mcg (5,000 IU) of bioactive vitamin D3. The natural D3 form has been shown to be up to 87% more effective than the synthetic D2 form at raising blood levels of vitamin D. Unfortunately many inferior vitamin D supplements use this synthetic form.*

How Vitamin D and Vitamin K Work Together to Keep You Healthy
When you take supplemental vitamin D, it's important to make sure you're also getting enough vitamin K. That's because increasing levels of vitamin D in your blood typically increases calcium levels too, and you need vitamin K to help activate hormones and enzymes that make sure the calcium ends up in your bones where it belongs—instead of in your arteries, organs or other soft tissue.*

Vitamin K1 is the most common form of vitamin K in food, found primarily in leafy green vegetables. It helps promote strong, healthy bones and plays a role in the production of proteins needed to prevent excessive bleeding in the body.*

Vitamin K2 —particularly in the natural menaquinone-7 (MK-7) form used in Durable D3K—has been shown to be exceptionally easy for the body to absorb and to remain active in the body longer than K1, which is why it is important to take both forms. Many inferior supplements do not include K2 or use the synthetic MK-4 version.*

Taken together, vitamins D3, K1 and K2 support healthy bone mineralization, a healthy cardiovascular system, optimal immune function and a higher overall level of wellness.*

Each tiny, easy-to-swallow Durable D3K softgel provides the powerful combination of high-potency vitamin D3 and vitamin K in their most bioactive forms. And since these nutrients are both fat-soluble, we put them in an oil based softgel for enhanced absorption and maximum bioavailability. Supplements in capsule form will be far less effective.*

Why We Use Amber Glass Bottles vs. Clear Glass or Plastic:
• Sustainability: Glass is infinitely recyclable and reusable.
• UV Protection: Amber glass protects the ingredients from light damage.
• 100% Non-Toxic: No risk of chemicals found in plastics leaching into the pills.
Directions & Label Information

+

Directions

For adults only. Take one softgel daily or as directed by your healthcare practitioner. Do not exceed recommended dosage unless directed by your healthcare practitioner.

Contents

Each bottle contains 60 softgels (typically a 60 day supply).

Notice

This product contains vitamin D at a level that exceeds the adult tolerable upper intake level. It is highly recommended that serum 25(OH)- and 1,25(OH)2-vitamin D be monitored every 60-90 days while consuming this product to ensure that levels remain in an acceptable range.

Cautions

If pregnant or nursing, taking other nutritional supplements or medications, or if taking anticoagulants, consult your healthcare provider before use. Keep out of the reach of children.

Storage

Keep tightly closed in a cool, dry place.

This product is non-GMO and gluten-free. It is manufactured in a facility that produces products containing wheat, soy, milk, egg, tree nuts, fish and crustacean shellfish.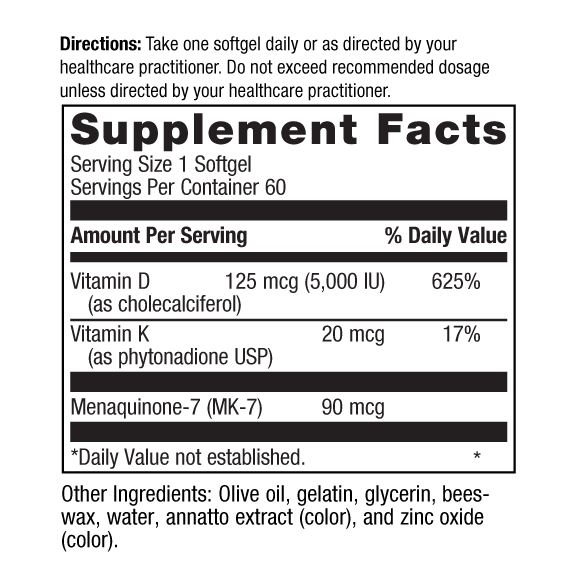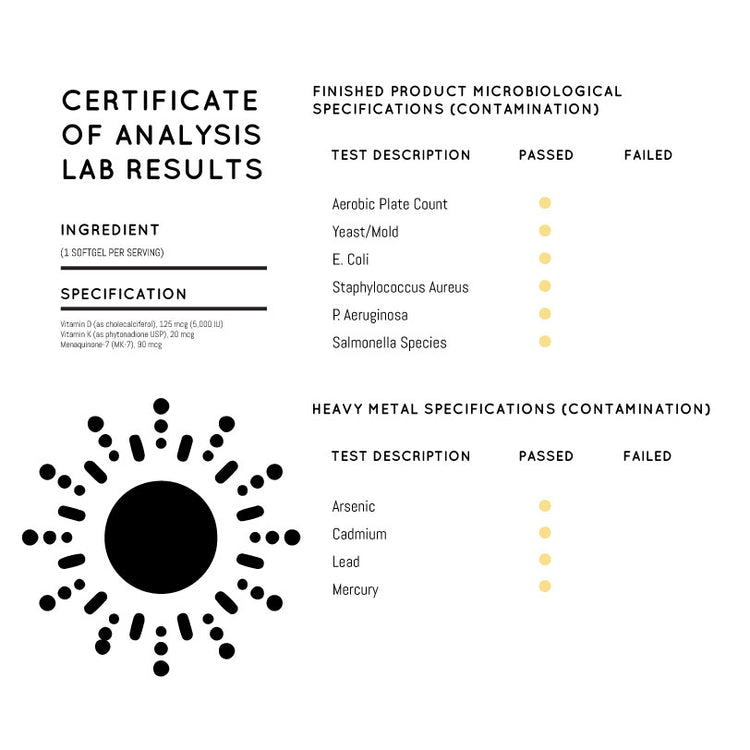 Elevate Your Health With a Synergistic Blend of Vitamin D3 and Vitamin K
Vitamin D3

Vitamin D influences everything from heart health to immune function. The D3 form has been shown to be up to 87% more effective than the D2 form at raising vitamin D levels.*

Vitamin K1

Found in leafy green vegetables and the most common form of vitamin K, vitamin K1 helps ensure that calcium is deposited in your bones instead of in your arteries or other soft tissue.*

Vitamin K2 (MK-7)

Vitamin K2 as menaquinone-7 (MK-7) is the easiest form for your body to absorb and has been shown to be highly effective at entering the bloodstream to promote cardiovascular health.*
Frequently Asked Questions
Dr. Kevin Passero Answers
Functional medicine expert, licensed naturopathic physician
and Durable co-founder Dr. Kevin Passero answers your top questions.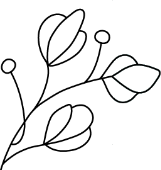 Is taking a high-potency dose of vitamin D daily safe?

+

The latest research shows that, even though vitamin D is a fat-soluble nutrient, a daily dose of 125 mcg (5,000 IU) is appropriate and beneficial for most people.*
What form of vitamin D is best?

+

Vitamin D2 (ergocalciferol) is a synthetic form of vitamin D and the form often used to fortify foods. It's also the form you're likely to get if your doctor gives you a prescription for vitamin D. It has been shown to be significantly less absorbable—and less effective—than vitamin D3 (cholecalciferol).*

Vitamin D3 is the type your body produces naturally in response to exposure to sunlight. Studies have shown that D3 is much more absorbable than D2. In fact, one study found that is raised and maintained blood levels of vitamin D 87% better than D2 and produced a 2 to 3-fold increase in storage of vitamin D in the body.*
Why are there two forms of vitamin K in Durable D3K?

+

Vitamin K2 (menaquinone or MK-7) has consistently been shown to be the easiest form of vitamin K for the body to absorb and the most effective at delivering vitamin K's bone health and cardiovascular benefits. While it's found in dairy and certain fermented foods (most notably, the Japanese soy-based food, natto), a K2 supplement is the most reliable way to get vitamin K's benefits.*

We combined the K2 in Durable D3K with the K1 (phytonadione), which is the most common form naturally occurring in the human diet from sources like leafy green vegetables. Including both forms of this important fat soluble nutrient enhances the synergistic effectiveness of our formula.*
Are there any side effects?

+

There are no significant known side effects associated with taking vitamins D3 and K. If you are taking blood thinning medication, check with your doctor about taking supplements that contain vitamin K.*

In addition, we highly recommended that you have your vitamin D levels checked periodically while taking this product to ensure that your levels remain in a healthy range.*

Pregnant or nursing women should always consult with their healthcare provider prior to using any supplements.*