Durable PLANT MULTI™
Plant-Powered 2-a-Day Multivitamin
A comprehensive, 2-a-day formula that provides clinical doses of over 20 essential vitamins, minerals, antioxidants and phytonutrients along with a blend of potent, plant-based compounds that enhance cellular health for total body benefits.*
Savings based on 1 bottle price
SHIPS NEXT BUSINESS DAY
What It Does

+

Durable PLANT MULTI is a nutrient-dense, plant-based formula that nourishes and protects your cells with the combined power of over 20 vitamins, minerals, antioxidants and phytonutrients—all in just two small, naturally coated tablets per day.*

• Promotes cellular health, longevity and general wellness*
• Provides antioxidant support to reduce DNA damage*
• Reduces oxidative stress markers associated with heart health*
• Supports your immune system, energy, brain, vision and more*
• Promotes optimal nutritional intake and helps overcome deficiencies in your diet*

General Product Info:
• 120 coated tablets (a 60-day supply)
• Made in the USA in an FDA inspected facility
• Packaged in sustainable, 100% non-toxic amber glass bottles
• One-year, any reason return policy with free return shipping
Why It Works

+

According to Dr. Passero, a multivitamin should be a key component of any well-rounded supplement regimen. However many people take one that is way too watered down to have any substantial health benefits. Durable PLANT MULTI goes above and beyond the vitamins, minerals and antioxidants found in typical multivitamins to provide powerful, plant-powered nourishment and protection for every cell in your body.*

Durable PLANT MULTI is designed to fill in the gaps in your diet with a comprehensive blend of vitamins and minerals at optimal doses that go beyond the RDA (Recommended Daily Allowance) for optimal health. What sets this multivitamin apart is the inclusion of a high-antioxidant blend of phytonutrients—health-promoting compounds found exclusively in plants.*

The proprietary phytonutrient blend in Durable PLANT MULTI reflects extensive research on the diverse array of health-promoting compounds found in colorful fruits, vegetables, herbs and other plant foods.*

Phytonutrients support healthy cellular function and communication. They also provide antioxidant protection against cell-damaging free radicals. That's why health experts recommend eating more phytonutrient-rich foods to help you thrive.*

Durable PLANT MULTI offers a powerful and convenient way to optimize your levels of essential vitamins, minerals and antioxidants while increasing your intake of key phytonutrients that have been shown to promote cellular health, longevity and overall wellness.*

Why We Use Amber Glass Bottles vs. Clear Glass or Plastic:
• Sustainability: Glass is infinitely recyclable and reusable.
• UV Protection: Amber glass protects the ingredients from light damage.
• 100% Non-Toxic: No risk of chemicals found in plastics leaching into the pills.
Directions & Label Information

+

Directions

For adults only. Take one to two tablets once daily with food or as directed by your healthcare practitioner. Dr. Passero typically recommends two tablets daily.

Contents

Each bottle contains 120 naturally coated tablets (typically a 60 day supply).

Warnings

Do not use if pregnant or nursing. Excess vitamin A may increase the risk of birth defects. Pregnant women and women who may become pregnant should not exceed 3,000 mcg of preformed vitamin A per day.

Cautions

If taking medication consult your healthcare practitioner before use. Keep out of the reach of children.

Storage

Keep tightly closed in a cool, dry place.

This product is non-GMO and gluten-free.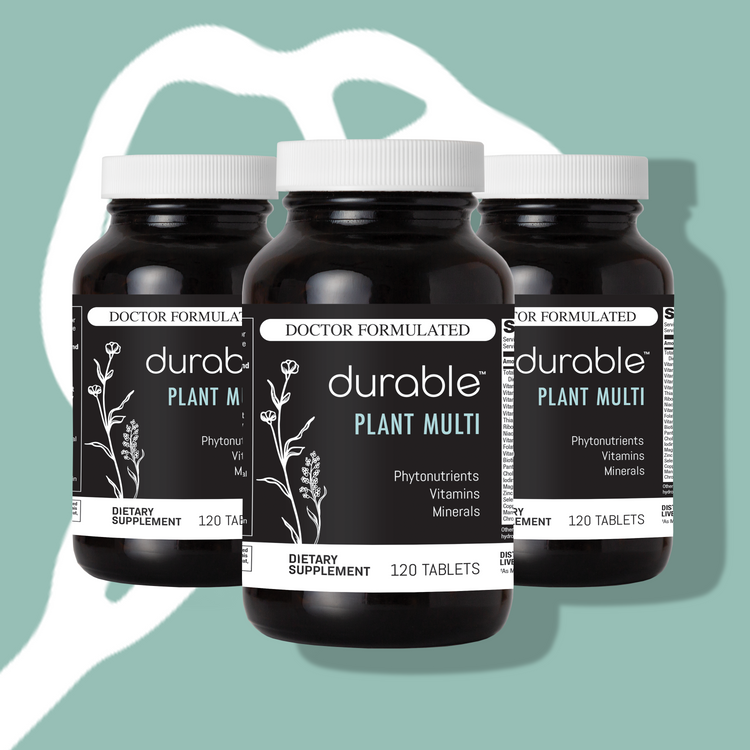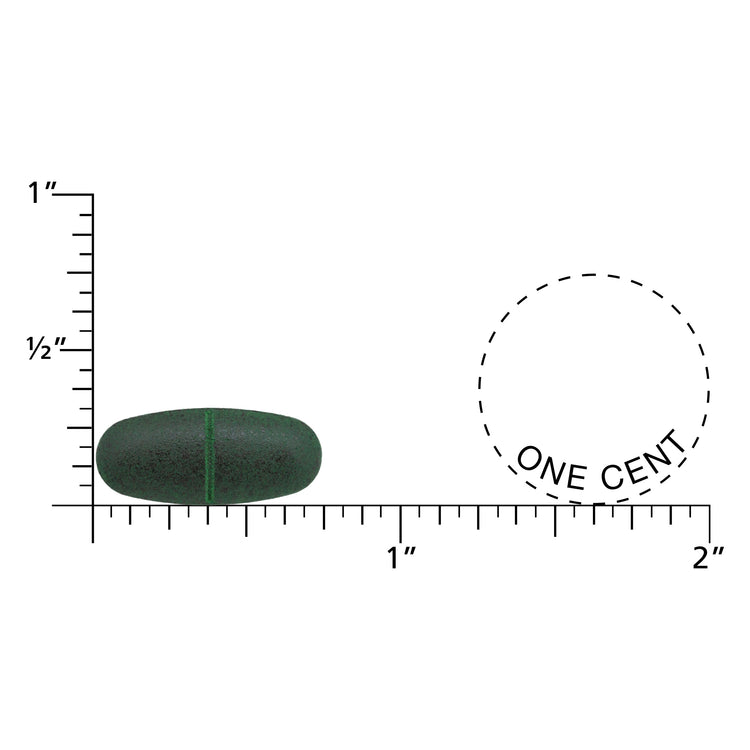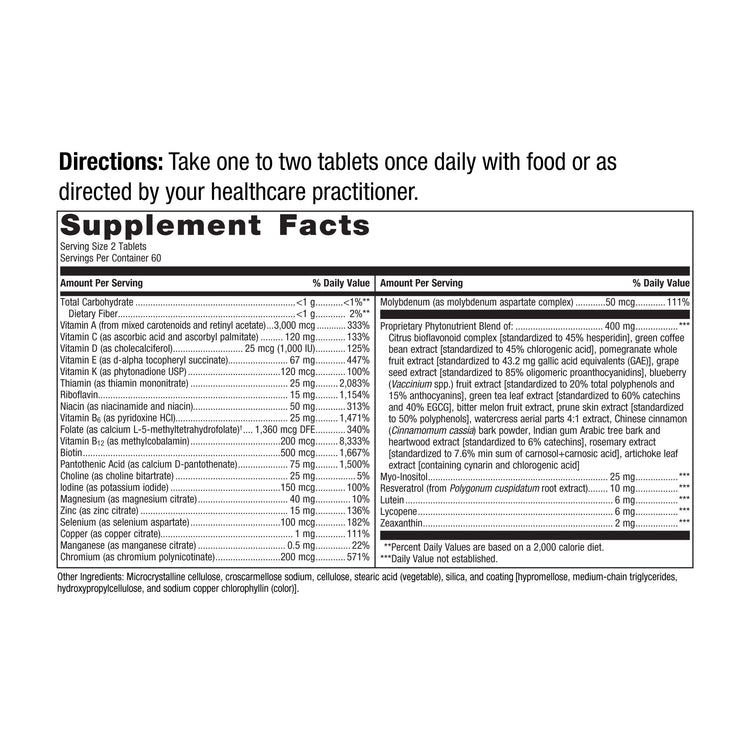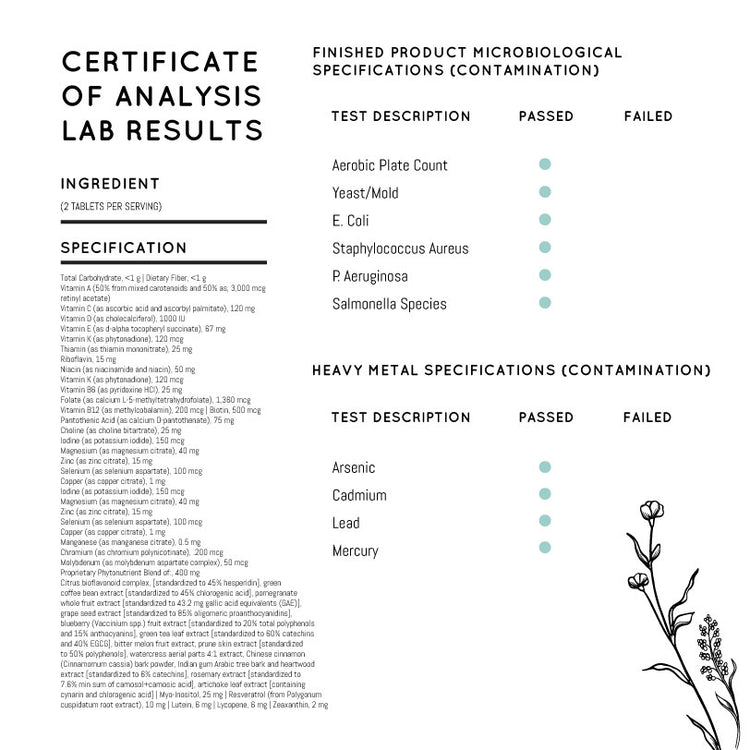 Elevate Your Health With a Next-Level Multivitamin
Essential Vitamins & Minerals

A high-potency blend of 20+ essential vitamins and minerals your body needs to thrive—in forms shown to be most effective in the research and at clinical doses that meet or exceed the RDA.*

High-Antioxidant Phytonutrient Blend

A concentrated blend of standardized extracts rich in phytonutrients (bioactive plant compounds) including green coffee bean, pomegranate, grape seed, blueberry and green tea.*

Extra Free Radical Fighting Firepower

Resveratrol provides additional antioxidant protection for your cardiovascular system, and the carotenoids lutein, zeaxanthin and lycopene provide targeted support for vision and skin health.*
Frequently Asked Questions
Dr. Kevin Passero Answers
Functional medicine expert, licensed naturopathic physician
and Durable co-founder Dr. Kevin Passero answers your top questions.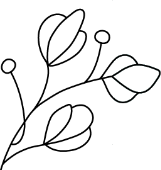 What are phytonutrients and why do I need them?

+

Phytonutrients are substances found in certain plants that have been shown to be beneficial to human health. "Phyto" refers to the Greek word for plant. These substances help keep plants healthy by protecting them from insects, the sun and other threats. Phytonutrients also have antioxidant and anti-inflammatory properties that can help us stay healthy.*

Epidemiological studies have found that high consumption of plant-based foods rich in beneficial phytonutrients is associated with better health and longevity. Based on these studies along with research on individual plant compounds, there's a growing recognition of the value of dietary phytonutrients, which help support antioxidant protection, DNA stability and cellular communication. These in turn influence the proper functioning of metabolic pathways and body systems.*
Why is there no iron in Durable PLANT MULTI?

+

Durable PLANT MULTI does not contain iron, because iron is oxidizing and may contribute to aging and other health concerns. You should not take iron unless you are iron deficient and directed by your doctor to do so.*
What's the best time of day to take Durable PLANT MULTI?

+

We recommend taking Durable PLANT MULTI with breakfast or lunch. It contains B vitamins that have an energizing effect that could interfere with sleep.*
Are there any side effects?

+

There are no significant known side effects associated with taking the ingredients in Durable PLANT MULTI.*

However, pregnant and nursing women and women who may become pregnant should NOT take this product. Pregnant women and women who may become pregnant should not exceed 3,000 mcg of preformed vitamin A per day included in this product, because it may increase the risk of birth defects.*